<!- box:side-1 -->
Slope Riders 2019 flier (pdf)
Law Students Participate in Torch Run
Health Care Explorers Wrap Up First Year of Program
Yearbook Orders
WCTS-TV programming
Warren Tech Knights Custom Apparel Shop
Older Announcements
Building Students Construct Walkway for Historic Shippen Manor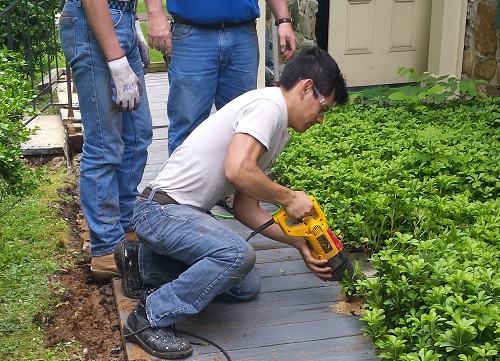 Students in Warren Tech's Building Tech and Electronics programs recently constructed a new walkway and installed it at the historic Shippen Manor in Oxford, NJ. The students worked in collaboration with the Warren County Cultural & Heritage Commission and they were introduced to the the Shippen Manor and its historical significance.
Shippen Manor, a Warren County owned museum, was in need of a replacement site access walkway that is 150 feet long and American with Disabilities Act (ADA) compliant. The Building Technology class pre-constructed the walkway in modular form and eleven students worked on site to remove and dispose of the old walkway, prep the ground and install the new walkway.
"This project allowed students to learn about unique opportunities in building in relation to historic buildings and preserving history," said Warren Tech Building Technology Instructor Brad Bartow. "It was important that we maintained the historical feel with the project while making it functional for visitors and ADA compliant."
Students measured and laid out a plan to construct the walkway in the Building Shop at Warren Tech and then transported the pieces to the Shippen Manor for installation. Students then removed the old walkway and installed the new walkway over a two-day construction period.
"Through this activity, students gained an understanding of the importance of volunteerism," said Electronics Instructor John Metroke who helped organize the project. "The Shippen Manor also benefited with a new public access walkway."
To learn more about the Shippen Manor, visit http://wcchc.org/