<!- box:side-1 -->
November Students of the Month Announced
Tech Students Create School Emergency Video
Keating Elected Regional Officer for SkillsUSA
October Athlete of the Month Awards Announced
Key Club Canned Food Drive Underway
Cosmo Students Participate in Unique Demonstration
Skills USA Reps Visit Capitol Hill
WCTS-TV programming
Warren Tech Knights Custom Apparel Shop
Older Announcements
Keating Elected Regional Officer for SkillsUSA
Recently, a delegation of Warren Tech students traveled to Monroe , NJ, to attend the statewide SkillsUSA Fall Leadership conference. There, the students participated in the opening ceremony, heard a motivational speech, interacted with students from throughout the state, and elected regional officers. Nicholas Hufford, Celeste Keating, Justin Mayberry, Kathleen LaParch, and Isabella Daniello represented Warren Tech at the conference.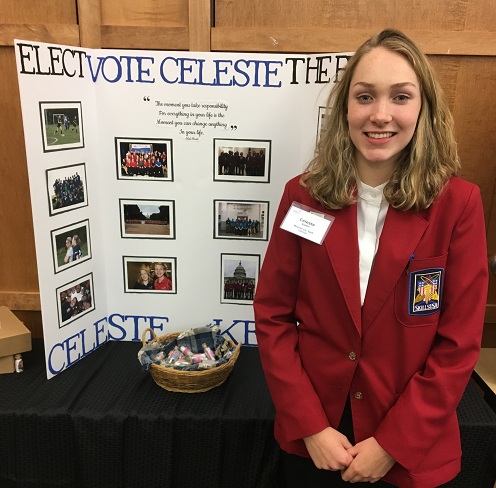 Celeste Keating, a junior in the Health Sciences career major, was elected President of the Central New Jersey Region. Her campaign was based on the workplace elements of the SkillsUSA organization, and she focused on her involvement in activities and her responsibility to the school, the community, and her peers. As an officer, Celeste will be part of the statewide team that establishes policies for the Skills organization. Additionally, Celeste will help recruit and teach other students about Skills, and she will serve as an ambassador for Skills at state and national events.
Also during the day, the entire delegation participated in a motivational speech given by Gian Paul Gonzalez. Mr. Gonzalez played in the NBA for the LA Clippers and is now a ninth grade history teacher in Union City, NJ. While telling of the obstacles he overcame during his life, Mr. Gonzalez encouraged all participants to be "ALL IN" on their school, family, and personal endeavors. Each student received a chip to dedicate to a goal, and every person pledged to give 100% to that effort. Nick Hufford, SkillsUSA State Treasurer, was selected to meet and thank Mr. Gonzalez for giving his inspirational speech.